History of Medical Intuition
Medical Intuition based on energy medicine can be traced back to its roots in ancient energy healing practices. Shamanism is the root of all energy medicine and has been practised by cultures all over the world for thousands of years. Some ancient medicine that grew out of shamanism includes traditional Chinese medicine and Ayurvedic medicine.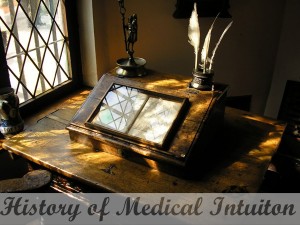 Because energy medicine is so ancient it doesn't distinguish between what we would now separate in to categories of science and religion. Its principles ride on the integral connection of body, mind and soul and love as the greatest power or energy in the universe. Although we have come forward rapidly with technology this is where modern medicine is lacking as it has not scratched far beyond the surface of the human being as to consider the nature of our soul in healing.
Healing using energy is a powerful skill and ability that when combined with understanding can provide many solutions to sickness and illness. When we begin to realize that thought creates matter we will have an eye with which to see the workings of health much deeper than we do now. This is something that has been understood over time and has the potential to seal the split between science and religion. Until then we will continue to uphold the illusion of our duality.
In the 1097's Dr Norm Shealy grounded Medical Intuition within the mainstream through his study and training of Medical Intuitives. His ground-breaking research with clairvoyant Carolyn Myss PhD coined the term "Medical Intuition". He was one of the founders of the American Holistic Medical and Nurses association and the first University to offer a program in Energy Medicine. Carolyn Myss became North America's first most well know medical Intuitive, author of many books in the field of human consciousness and energy anatomy. It is through the work of this relationship between Myss and Shealy that Stephanie's teacher Marilyn Parkin acquired her PhD and started the International College of Medical Intuition.
Other well-known western leaders in the field of Medical Intuition include people like Edgar Cayce. He was the "sleeping prophet," the "father of holistic medicine," and the most documented psychic of the 20th century. For more than 40 years of his adult life, Cayce gave psychic "readings" to thousands of seekers while in an unconscious state, diagnosing illnesses and revealing lives lived in the past and prophecies yet to come.
Rev. Rosalynn Bruyere founder of the Healing Light Center Church Using her skills in perceiving and interpreting auric phenomenon, she was instrumental in research conducted at UCLA with Dr. Valerie Hunt in which the existence and significance of the human aura was first proven and measured scientifically. Her ability to see patterns of disease and behavior in exquisite detail and to energetically transform tissue at a cellular level has brought her worldwide attention.
Barbara Brennan is a well-known energy healing practitioner and author of Hands of Light and Light Emerging which are considered classics in the field of complementary medicine. Her work has resulted in the development of Brennan Healing Science a holistic healing modality based on Human Energy Consciousness system and its relationship to health and disease
Donna Eden is an author, teacher and healer who wrote the book Energy Medicine. Her energy healing how to book and workshops had provided Stephanie with great information in her early days of studying energy healing.
Mona Lisa Schulz (Dr. Mona Lisa), is a medical intuitive. Dr. Schulz received her doctorates, an MD and a PhD (Behavioral Neuroscience) from Boston University's School of Medicine in 1993. She has an extensive background in health and brain research.