In the east Thai Massage is a tradition that dates back about 2000 years. It was good enough for the Buddah, and it's good enough for you! Stephanie brings the best of three schools linage of Thai Massage from Thailand back to the Shuswap/ Okanagan  for you!
Thai Massage is commonly known as "lazy person's yoga"
Thai Massage combination of acupressure and stretching helps make you more flexible. Come and try the "office stretch", named by one of my Vancouver clients as a perfect remedy for sitting hunched over at a desk all day long, and leave with a commonly heard comment, "WOW the pain is gone and I feel taller, and looser".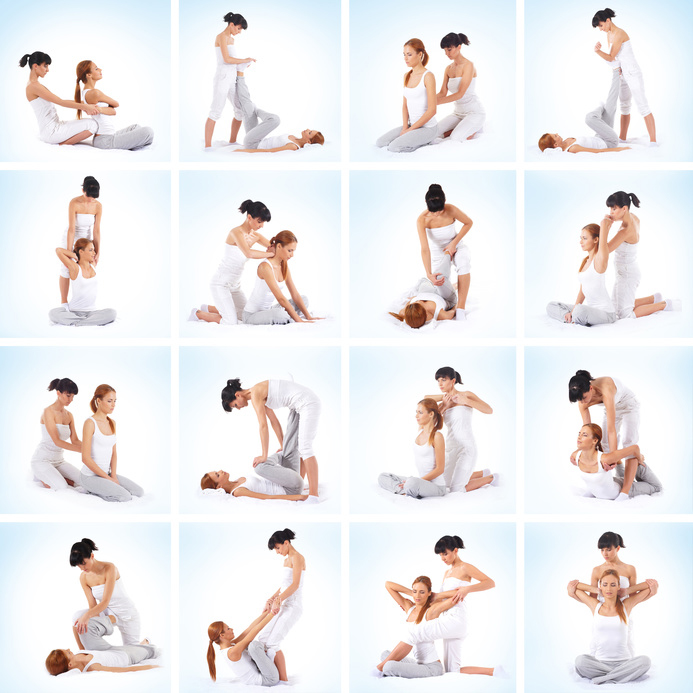 This elegant healing art has many influences; it's dance-like quality is similar to a martial arts routine between the practitioner and recipient. The practitioner gently guides the recipient into different stretched or yogic postures, using all parts of their two bodies as a system of levers and pulleys. This leaves one with the feeling of having yoga and massage done to you.
Thai Massage's rhythmic rocking gently relaxes as the practitioner helps open any constricted areas of energy flow in the recipients body through coaching of breath. Thai Massage increases the range of motion in all the joints and stimulates circulation and energy flow with the use of acupressure massage along the energy lines of the body, leaving the recipient feeling refreshed and energized.
Thai Massage is a holistic treatment which addresses a variety of complaints; injuries, tight muscles, poor posture, low energy, headaches, even anxiety and depression. Because the acupressure massage follows energy lines in the body which stimulate the internal organ system, Thai Massage is effective for treating such things as digestive disorders and helps to balance and release suppressed emotions.
Too lazy to go to a yoga class? Stiff and in need a full body refresher?
Thai Massage sessions are 90 ($115.00) to 120 minutes ($145.00) in length.
Please come in loose comfortable clothing.
Add a Hot Herbal Compress of 30 minutes or one hour to any Thai Massage!!
Hot Thai Herbal Compress Massage
According to traditional Thai energetics, hot  temperatures increase energy flow, improves circulation, relaxes muscles, and stimulates nerves. Applied to joints and muscles, hot herbal compresses can soothe soreness and increase flexibility.
Applied to the abdominal region, they tonify and energize internal organs, and they are used in treatment of many internal diseases, skin conditions and also are designed with herbs to calm and soothe the mind.
Common herbs found in Hot Thai Compress are:
Stimulate energy, improve circulation, reduce congestion, and relax muscles
Tamarind
Kaffir Lime
Mandarin Orange
Lemon
Cleanse skin, improve skin tone, treat dermatitis or rash, disinfect acne and minor cuts, kill bacteria
Jasmine
Eucalyptus
Camphor
Cinnamon
Peppermint
Stimulate the senses, relax the mind, lessen mental disturbance and stress